Check our Specials!



Experience the Healing Power of Natural Volcanic Sulfur
The Journal of Drugs in Dermatology defines Sulfur as a yellow, non-metallic element with medicinal properties. Sulfur naturally occurs in volcanoes, surfacing upwards daily from underground steam vents and is also found in hot mineral springs. The use of sulfur to treat Acne dates back since the time of Hippocrates. Natural Volcanic Sulfur is well documented in medicine for its Anti-Bacterial, Anti-Fungal, Anti-Inflammatory and Natural Antiseptic properties make it an excellent active ingredient. Sulfur, therefore, has been approved by the FDA to be used in the treatment of many skin disorders, including Acne, Pimples, Blackheads, Whiteheads, Blemishes, Large Pores, Clogged Pores, Zits, Acne Vulgaris, Rosacea, Seborrheic Dermatitis, Dandruff, and more.

For decades people from all around the world world traveled great distances to volcanic sulfur springs to cure their skin ailments -- now Joesoef Skin Care brings the Healing Powers of Natural Volcanic Sulfur to you.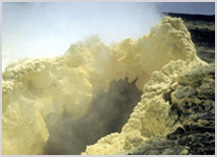 Natural Volcanic Sulfur - sourced direct from volcanoes.
________________________________________________________________
ANTI-ACNE PRODUCTS
ANTI-ACNE TREATMENT KIT (3 Step)
The only Anti-Acne treatment regimen to feature Natural Volcanic Sulfur; 4 unique products work together to effectively Cleanse, Remove, Treat, and Target Mild to Severe Acne and breakouts.
Size: 3 pc asst.
- Anti-Acne Soap 10%
- Anti-Acne Astringent
- Acne Lotion Sulfur 6.6%
- Acne Spot CREAM -

Item Out of Stock until July 2012




3 STEP REGIMEN KIT
Special Price: $42.99


Priority Shipping
Delivery 2-3 Days
Same Day Shipping




ANTI-ACNE LOTION with NATURAL VOLCANIC SULFUR 6.6%
Special pH formula penetrates deep to unclog pores, kill trapped bacteria & fungus on contact and clears Acne blemishes Fast. Apply overnight as drying mask directly to acne & affected areas. Clinical Strength formula reduces inflammation, irritation and prevents future breakouts.
Size: 3.2 oz

$49.99 Value, Save 44%
Special Price: $29.99

Priority Shipping
Delivery 2-3 Days
Same Day Shipping



ANTI-ACNE SPOT TREATMENT (aka Spot Cream)

Out of Stock Item



Targeted acne treatment for use day or night. This unique solution vanishes as it quickly and effectively targets acne causing bacteria, fungus, deep pimples, whiteheads, blackheads, and blemishes.
Size: 0.35 oz

$24.99 Value, Save 48%
Special Price: $12.99 Unavailable Item Out of Stock









ANTI-ACNE ASTRINGENT Oil Remover
Thoroughly cleanses and penetrates deep into the pore to remove oil, dirt, sweat pollution, fungus, bacteria and makeup residue. Excellent for acne vulgaris, rosacea, clogged pores, blackheads, and blemishes.
Size: 3.2 oz

$39.99 Value, Save 42%
Special Price: $24.99



AHA GLYCOLIC ACID 8% FACE CREAM
Developed for acne to exfoliate dead skin cells and to stimulate the growth of new skin cells leaving behind a layer of smoother, softer skin, and more even skin tone and texture. Gently removes dead skin cells that trap oil and dirt thus preventing acne, blackheads, and pimples. Reduces the appearance of fine lines and wrinkles, and fades acne scarring and UV skin damage. Special pH formula.
Size: 0.53 oz

$49.99 Value, Save 44%
Special Price: $27.99

Priority Shipping
delivery 2-3 days







ANTI-ACNE SOAP with NATURAL VOLCANIC SULFUR 10%
Specially formulated with optimal pH by Dr. Joesoef 40 years ago to provide his patients with a natural cleansing treatment for Acne, Dermatitis, Rosacea, Tinea Versicolor, Fungus, Psoriasis, MRSA, Bacteria, Body Acne, Clogged Pores and Oily prone skin. Natural Volcanic Sulfur's anti-bacterial, antiseptic, and anti-fungal properties remove harmful dirt, bacteria, fungus and oil buildup to give your skin a healthy complexion and prevent future breakouts. For face and body use after sweaty workouts, playing sports, gardening, hormonal breakouts and more. For best results use with Anti-Acne Lotion with Sulfur 6.6%
Size: 3.5 oz (100 g)

$19.99 Value, Save 30%
Special Price: $8.99

CLICK TO ORDER
NEW! ANTI-ACNE SOAP with NATURAL VOLCANIC SULFUR 5% FOR DAILY ACNE PREVENTION
Treats and combats acne at the root in a lower concentration formula for daily acne prevention. Natural Volcanic Sulfur eliminates blackheads, whiteheads, clogged pores, dermatitis, and skin blemishes. For face and body.
Size: 3.5 oz (100 g)

$14.99 Value, Save 30%
Special Price: $8.99 *Item Out of Stock




NEW! ANTI-ACNE SOAP with NATURAL BIO SULFUR 2% FOR SENSITIVE SKIN
Gently treats and combats occasional or mild acne at the root in a lower concentration formula for sensitive skin. Natural Bio Sulfur eliminates acne, pimples, blackheads, whiteheads, clogged pores, dermatitis, and skin blemishes. For face and body.
Size: 3.5 oz (100 g)

$14.99 Value, Save 30%
Special Price: $8.99 *Item Out of Stock